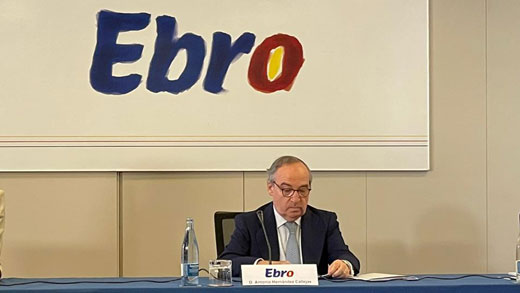 Antonio Hernández Callejas, Chairman of Ebro Foods, gave a summary of the main milestones of the year at the General Shareholders' Meeting, which this year was once again held telematically.
He dedicated a special tribute to the deceased employees and their families and to those who have suffered the devastating consequences of the pandemic. He stressed that in such a special and complicated year, the company has been able to respond with solvency and responsibility, supplying the markets at all times and reinforcing its commitment to society.
"In line with this commitment, an extraordinary budget of two million euros was approved for the Ebro Foundation, so that the institution could promote various actions to help mitigate the negative effects of the pandemic".
The Chairman explained that this extraordinary endowment has been used to help the most needy groups in the health crisis: hospitals, old people's homes, solidarity kitchens, hotel and restaurant owners, children at risk of educational exclusion, etc. And although most of these actions were carried out by the Foundation, alliances have also been established with various companies and institutions, which has served to multiply the results of social action and thus reach millions of people.
In his analysis of the year by divisions, the Chairman highlighted the increase in sales of Rice (+16.1%) and Pasta (+14.5%), which in both cases resulted in a significant increase in profit, despite increases in freight and raw material costs.
Antonio Hernández Callejas pointed out that the Ebro Foods share appreciated by 10.8% during the year, while the IBEX closed the same period with a fall of 16.6%; he also pointed out that the dividend yield per share was 13.25%.
The Chairman closed his speech by warning that 2021 will be a difficult year due to the various uncertainties, but that "we are prepared to face them and will continue to work on the necessary measures to improve our competitiveness, with an open mind to innovation, exploring new strategies that will lead Ebro to a profitable evolution in the sectors and businesses that may have more possibilities for the future".